One will be surprised to know that land of
Himachal Pradesh is the abode of 33 crore local deities
called the 'Devi Devtas'. As such Himacahl Pradesh is also known as the 'Dev Bhoomi'. One can find thousand of small and big temples in the 12 districts of Himachal Pradesh.
Himachal Pradesh is the state which has 90 percent of its population residing in the rural areas i.e. villages. Only 10 percent of its population lives in cities. All these villages have their own local deity known as the 'Kul Devtas' and 'Kul Devis'.
The above photograph shows, holy idol of a local deity, 'Paneu Nag' of Anni Tehsil in Kullu. People have lot of faith in their Kul Devtas and often their problems are solved by local deities.
Kullu Dussehra- Witness Huge Gathering of Himachal Devtas
One of the best place to see the palanquins of Himachal Devi Devtas coming from different parts of Kullu valley, is the Dhalpur ground during the famous Kullu Dussehra. Kullu Dusshera is ranked as international festival.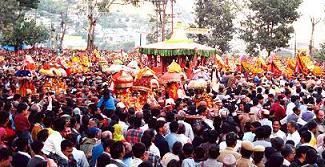 Huge gathering at Kullu Dussehra.
Kullu Dussehra marks its beginning when Dussehra celebrations are closed in every other part of the nation. Kullu Dussehra lasts for a week, where more than 300 Devi Devtas come to visit and meet each other. Lots of fairs and programmes are organized in the Dhalpur ground. Various Bollywood personalities are invited to give their performances.
The famous Procession and Rath Yatra, Ram Lila, animal sacrifice rituals, burning of effigies are the major attractions of Kullu Dussehra.