There may be many villages in the world located at very high altitude but all of them may not be accessible by road as it is impossible to construct roads at such altitudes. But Kibber village situated in Spiti region of Lahaul and Spiti district of Himachal Pradesh is the highest motorable village in the world. Kibber village is just 16 kms from Kaza.
Kibber village is situated at a chilling height of 4200 metres.
One can drive a car to this village located at a summit point.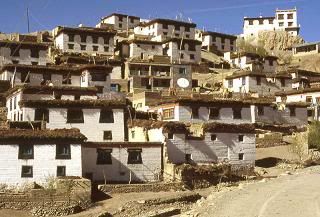 Kibber Village
Kibber village being at such a great altitude not only has the road facility but is also provided with post office, civil dispensary, telegraph office and high school too. The entire village houses are provided with electricity facilities. Kibber village is a famous spot visited by tourists coming from various parts of India and abroad as well. As such, there are number of guest houses in Kibber village. Since Kibber village is very close to the Tibetan border, the people living here are mostly Tibetan Buddhists. Another interesting fact about this village is the architectural style of all the houses in Kibber Village.
All the houses in Kibber village are made of stone
rather than of brick giving them a rocky look.
Surrounding places of Kibber village are famous for mountaineering, trekking and other adventure and winter sports. Tourists often enjoy adventure sports here.
Dangmachan peak
is one of the famous peaks for mountaineering located at an altitude of 5157 metres.
Buddhsit Ki Monastery located at the upper end of Kibber Village
is another important place to visit. It is said that current
Dalai Lama's teacher died in Buddhist Ki Monastery.