The huge event of sports that is Commonwealth Games, 2010 is just 10 days ahead to be started in
New Delhi where 85 Commonwealth teams will be participating.
Indian organizers for the Commonwealth Games seems to be indolent as the preparations are still going on, which would otherwise have been perfectly completed at least a month back. Scarcity of time is making the organizers to complete the work in haste and hence resulting in poor quality work.
The organizers of Commonwealth Games had to face the consequences of such irresponsible preparations when a foot-over which was under construction collapsed suddenly injuring 23 people working there. The length of the bridge was 95m long with another over-bridge. The foot over was being built just outside the
Jwaharlal Nehru Stadium which is the main stadium for Commonwealth Games, 2010.
This incidence has in fact put a question mark on Indian organizers.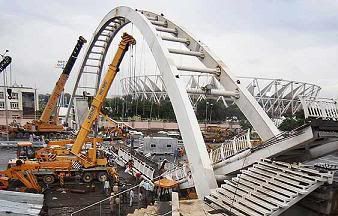 Bridge for Commonwealth Games Collapsed!
This incident has disappointed not only the sports-persons but also the Commonwealth Games officials in other countries. They have intimated India to fix the deficiencies in the preparations as soon as possible, otherwise, Commonwealth Games, 2010 may not happen.