26th September is celebrated throughout the world as 'World Heart Day'. Heart being the most sensitive organ of our body needs to be taken proper care of. Smoking, excessive liquor and obesity are often considered dangerous for heart and causes heart related ailments. We all are been cautioned by various doctors and health specialist on Television, newspapers and FM's regarding heart care on this occasion of 'World Heart Day'.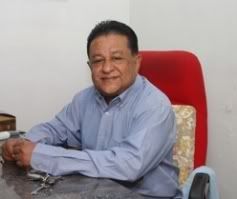 Dr. K.M. Cherian
But are you aware of the name Dr. K.M. Cherian? Friends,
Dr. K.M. Cherian performed India's first auto-transplant and heart and lung transplant.
Dr. K.M Cherian founded the Madras Medical Mission (MMM) in the year 1982. Madras Medical Mission is a non-profit hospital specializing in cardiac ailments. Dr. K.M. Cherian has won many prestigious awards in his field, the famous of which are Indo Australian Award and Melwin Jones Award.
Dr. K.M. Cherian can be considered as the pioneer of heart transplant in India.