Kullu Manali is nationally as well as internationally famous as snow-spot, hill station and for its reverberating beauty and adventure sports. But another dark fact associated with this small district of Himachal Pradesh is that Kullu tops in India in the production of Charas.
Every year, 100 Quintal of Charas is produced alone from Kullu district of Himachal Pradesh.
Kullu has in fact become a destination of Charas and drug mafias. Local residents of Kullu have also involved in this black business of Charas smuggling in order to earn easy money. Consequently, about 1% of total population of Kullu is behind the Jail bars for this illegal business and at least 10% have legal cases running on them.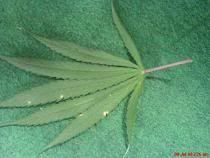 Kullu Marijuana
After one month, i.e. October, 2010, Kullu is going to witness the
internationally acclaimed festival 'Kullu Dusshehra'.
Lakhs of visitors from various parts of India and thousands from foreign nations come to visit Kullu. During Kullu Dusshehra, it is alleged that very big deals of Charas and other drugs takes place in Kullu. People have started making Charas out of 'Bhang' in the hilly regions of Kullu. Quintals of Charas is exported illegally to foreign nations from the land of Kullu. Earlier Kullu used to just export but now it is alleged that drugs like 'Afeem' and 'Smack' will be imported from Afghanistan to Kullu during Dusshehra festival.
Hilly regions of Manikaran valley, Malana valley and Banjar valley of Kullu are famous for the production of finest Charas
that is sold at golden price. Malana Charas is supposed to cost Rs.25,000 to 30,000 per 10 grams.
If the web of drug smuggling keeps on spreading like this, youth of the state as well as country is going to be ruined completely. Charas and other drugs adversely affect the health and causes pre-mature death.
Narcotics department and police officials in Kullu
should get alert in such regions of Kullu and take stringent measures to curb this illegal business of Charas smuggling and production.