In India if you ask anybody for their favourite sports, 'Cricket' is the most popular word on their lips. But with the passage of time
India has started excelling in other sports as well like Chess, Tennis, Golf, Wrestling,Shooting
etc. Abhinav Bindra and Rahjyavardhan Singh Rathore in Shooting, Sania Mirza In Tennis, Vishwanathan Anand in Chess, Arjun Atwal and Jeev Milkha Singh in Golf and Sushil Kumar in Wrestling have brought India in spotlight by their excellent performance in these sports at international levels.
One other name that is giving the proof that India can do wonders in boxing too is
Mary Kom-an inspiration for women boxers in India.
This 27 year old women from Manipur is known as the 'Iron Lady' for fantastic boxing skills. Recently
Mary Kom won gold medal in 48 kg World Boxing Championship held in Barbados.
For this marvellous performance, Mary Kom was given a cheque of Rs. 3 lacs by Monner Ispat and Energy on 24th September, 2010.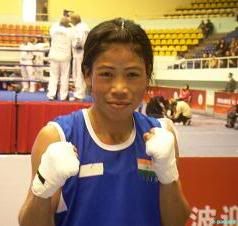 Mary Kom-'The Iron Lady'
Mary Kom was born on 1st March 1983 and now she is married and proud mother of two children. Mary Kom is an example for the women in India that after getting married she did not give her sports but continued with boxing with same zeal and won gold medal in World Championship. Initially, Mary Kom was not a boxing player rather she was good in 400 metres and Javelin throw. It was in the year 2000 that Mary Kom started with Boxing and soon became skilled in Boxing. From the year 200o to 2005,
Mary Kom remained national boxing champion for five times
consecutively. Mary Kom won the gold medal in 2003 Asian games defeating Chinese opponent.