There was time in Olympic history, when there was no competition to men's hockey team of India. Yes, I am taking of pre-independence period, when
Indian hockey legends like Dhyanchand
used to lead the Indian hockey team. Indian hockey team was so skilled in that era that
Adolf Hitler once watching a hockey match stated that there is some kind of magic in Dhyanchand's hockey stick.
But the scenario of
India's National Game, Hockey
has changed a lot. If we talk of Commonwealth games, it is grim to know that till date Indian men's hockey team has won not even a single medal. Though
entry of Indian men's in hockey in Commonwealth games was as late in 1998 Kuala Lampur Commonwealth games
but still three Commonwealth games have passed since then but no medal. That time, Indian men's hockey team remained at the fourth position. In the following Commonwealth Games in 2002 in Manchester, men's hockey didn't even participate. Worst was the performance in 2006 Commonwealth Games in Melbourne when they were ranked sixth.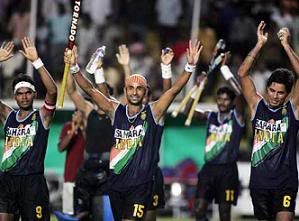 Indian Men's Hockey
Now, it is high time for the Indian men's hockey team to show their mettle in 19th Commonwealth Games to be organized in New Delhi from October 3rd to October 14th, 2010. The major opponents of Indian team in these Commonwealth games will be Australia and Pakistan. But, if we talk of Indian women's hockey team, they have shown pretty good performances in the past Commonwealth Games.
Indian women's hockey team won the gold medal in 2002 Commonwealth Games.
The same is expected from Indian men's hockey team this time.