September 21st , 2010 was clap on clap day for Sensex at Bombay Stock Exchange. It was after almost two years and eight months that Sensex crossed the astonishing 20,000 mark. As the share market opened on September 21st, 2010 the Sensex crossed the level of 20K within few minutes and made the people see this figure of Sensex for the second time in history.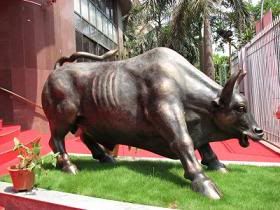 Bombay Stock Exchange's Bull
Earlier it was on 15th January, 2008 when Sensex had crossed the 20,000 mark. Yesterday, the Sensex reached the maximum of 20,088.96 and closed at 20,001.55.