When we make visits to the foreign nations, we feel very delighted when we meet anybody from India there. It gives us a very homely and friendly feeling that we have our own people there. If we talk of the hegemony of the Indian people staying abroad and keeping their culture and tradition alive,
Sikh community from Punjab tops the list.
Punjabi families staying in Canada are the very best example for this. One can find a good percentage of Sikh residents there.
Yet another milestone is to be set by Tajinder Kaur from Jalandhar who have settled in England for the past 20 years. Tajinder Kaur is presently the owner of group of companies related to transport electronics and import in United Kingdom. Now, she has planned to make and entry into the world of Television.
Tajinder Kaur is going to launch 'Sikh TV' that will be telecast in United Kingdom and Europe
soon. Being the CEO Sikh TV, Tajinder Kaur added that
Sikh TV would be the third channel on Sikh community after 'Sikh Channel' and 'Sangat TV'.
Sikh TV is decided to launch around May, 2010. Sikh TV will soon join Sky Digital Platform.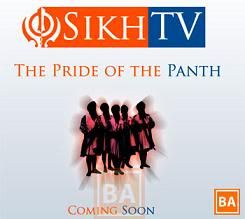 Sikh TV-Coming Soon!
The main theme of Sikh TV to be launched in UK and Europe is to make the Punjabi youth staying in UK and Europe learn about the culture and tradition of Sikh religion. Variety of programmes related to spirituality and positivity will be telecast on 'Sikh TV' . Religious music and news bulletins will also form vital part of Sikh TV. This initiative taken by Tajinder Kaur will bring our Sikh culture on a global level and make it popular worldwide. Tajinder Kaur has become a women of inspiration for not only Punjabi's but for entire nation of India.