Recently the Hollywood movie 'Inception' was released in Bangalore. A character in it was recognized as Indian by the public here. Is he really Indian? Dileep Rao is the name of the actor. The name sounds pretty Indian and his looks also are very much Indian. But, Dileep Rao is an American national.
Dileep Rao has also acted in the movie 'Avatar'.
Dileep Rao is now based in California and is Los-Angeles born actor.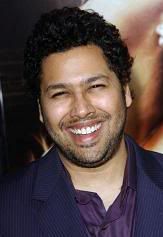 Dileep Rao
But how come name of this character and looks so Indian? Is there any connection to India? Yes,
Dileep Rao revealed, his great grandfather was from Karnataka
state of India and so are his parents. Dileep rao speak Kannada very well. Dileep Rao did his post graduation from American Repertory Theatre.
Starting his career with movies like 'Avatar' and 'Inception'
was not luck but in fact he was selected after the auditions for Avatar movie.
New York magazine has called Dileep Rao as the 'Indian Will Smith'.
Dileep Rao will work for Indian movies if he gets lot of offers with some fantastic scripts.