Sushil Kumar, making India proud with his bronze medal in Olympic Games and recently grabbing the gold medal in World Wrestling Championship.
Sushil Kumar has become first Indian wrestler to win the gold medal in World Championship.
Sports Minister M.S. Gill congratulated Sushil Kumar on his tremendous success and making India proud. M.S. Gill has decided to
award Sushil Kumar with Rs. 10 lakhs cash prize
for winning the gold medal.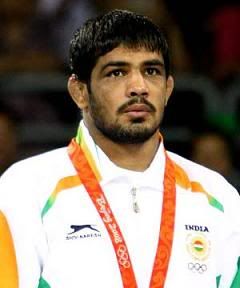 Sushil Kumar
Now, Commonwealth games are just few days ahead. Indian public has lot of expectations from Sushil Kumar in wrestling events. Looking into this form of Sushil Kumar, India is definite to win a gold medal in wrestling in Commonwealth Games. M.S. Gill also expects that
Sushil Kumar will keep up his form for the Commonwealth Games to be held next month.
Recently M.S. Gill has increased the prize money for the winners in Commonwealth Games. Gold medal winner will be awarded with Rs. 20 lakh cash prize. Silver medalist will be awarded with Rs. 10 lakhs cash prize and bronze medalist with Rs. 6 lakhs. The cash prize to these winners has been doubled to encourage their performance.
India is expecting to win more than 100 medals in these Commonwealth Games.