As we all know that, Facebook is the world's topmost social networking site.
Orkut, with a simple interface
was a social networking site, launched by Google few years back. Due to its easy interface,
Orkut initially gained popularity among Indian internet users
and became the best social networking site in India for couple of years. Initially people could not accept the complexity of facebook much so they stuck to the easy Orkut.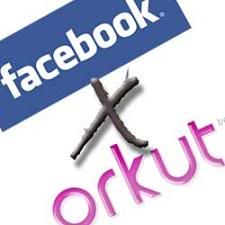 Orkut Vs. Facebook
Situations have changed now. Indian youth, children and other citizens have become smart enough and users of Facebook in India have increased as compared to Orkut users. As a result,
Facebook has finally surpassed Orkut and has become India's No. 1 social networking site.
Figures have shown that in the year 2010
Facebook users in India showed a extraordinary growth and reached to 2.09 crores in August, 2010 leaving behind Orkut with 1.99 crore visitors.