After composing theme song for the Commonwealth Games, 2010 in New Delhi,
A.R. Rahman is now being signed up by Toyota Kirloskar Motor as the Brand Ambassador of its new small car 'Etios'
which will be launched in India by December 2010. The two time Oscar winner, A.R. Rahman will endorse 'Etios' and will promote it through various marketing campaigns.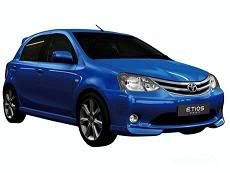 Toyota's 'Etios'!
'Etios' is a small car by Toyota Kirloskar Motor that is specifically made looking into common man's choice in Indian market.
'Etios' will be available to the Indian customers by December, 2010 at the price ranging between Rs. 3- 5 lakhs.
In order to produce the car units Toyota Kirloskar Motor has invested a sum of Rs. 3200 crore in Bengaluru plant. After the launch of 'Etios' in Indian market Toyota Kirloskar Motor is estimating the sale of 70,000 units in the first year.