Hockey is the national sport of India
and apart from it India has been excelling in various sporting events with the passage of time. There was a time when Indian players used to have their hegemony over the hockey sport but Indians started exploring other sports like cricket, badminton, tennis, chess etc. and made international achievements in these games also. Today, Indian sports persons have made their global identity in diversified sports. Here, I will be revealing some interesting facts related to Indian sports.
Wilson Jones-First Indian to Win a World Championship:
Just few years after Indian independence when craze for sports in India was not that much, Wilson Jones skilled himself in the Billiards game. In the year 1958,
Wilson Jones became successful in winning the 'World Amateur Billiards Title'
at Kolkata. As such, Wilson Jones became the first Indian to win any world championship individually in any discipline.
Wilson Jones!
Cricket Match Covered Live for the First Time in India:
We have entered into 21st century where live telecast of anything is easily possible. Not only this, sports events like IPL matches were telecasted live in 3D versions giving something new to the cricket fans in India. But do you know when was the first live TV coverage of cricket match was done in India?
On December 20th 1966, a game of Prime Minister's XI versus visiting West Indies was the first cricket match televised in live in India.
In this match Clive Lloyd and Hanumant Singh made centuries while Indian spinner Bishan Singh Bedi grabbed six wickets.
First Indian to Take Test Wicket in Test Cricket:
Today Indian cricket team has many fantastic bowlers and legends like Kapil Dev have many records in their name and known for their unique style. But nobody knows which Indian marked the beginning of wicket taking in test cricket. Mohammed Nissar of India was the first Indian bowler to take first wicket in test cricket.
India played its first test match with England on June 25th, 1932.
Percy Holmes and Herbert Sutcliffe came as the opening batsman from England's side. The two Englishmen were known for building high scores. A well built man of 6 feet, Mohammed Nissar opened the bowling attack from Indian side. In his very second over, Mohammed Nissar knocked out Herbert Sutcliffe at the score of 3 with his yorker. Thus,
Mohammed Nissar became the first Indian bowler to take the 1st wicket in cricket test match with England's Herbert Sutcliffe as his first victim.
Also, in his next over, Mohammed Nissar just broke off the stumps of Percy Holmes and sent him back to pavilion.
First Hat-trick by Indian in International Cricket:
To knock out three world class batsmen at three consecutive balls and that too at an international cricket match is not everybody's cup of tea. However, in the year 1987 Indian bowler
Chetan Sharma became the first Indian bowler to get the hat-trick in International cricket match.
Chetan Sharma!
During the World-Cup Match at Nagpur on 31st October, 1987 Chetan Sharma knocked down New Zealand's Ken Rutherford, Ian Smith and Ewen Chatfield in three consecutive balls and thus making the first hat-trick. Later Indian skipper Kapil Dev achieved this feat in ODI while Harbhajan Singh and Irfan Pathan attained their hat-tricks in Test Matches.
India's First Gold in Olympics:
The time when India was ruled by Englishmen, when liberty was at stake, Indians managed to win their first Olympics gold medal in hockey. In the 1928 Olympics held in Netherlands,
India defeated Netherlands by 3-0 in finals and won their first Gold medal in Olympics.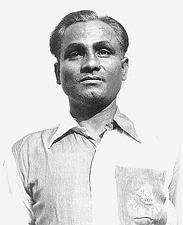 Dhyan Chand- Indian Hockey Legend!
Legendry Dhayn Chand scored two goals in this match and took Indian hockey team to the victory. India also became the first Asian country to win the gold medal in Modern Olympics.
From the year 1928 to 1956, Indian hockey team won six gold medals in Olympics
consecutively. In the 1964 and 1980 Olympics, India again managed to win gold medal in hockey thus making a total of 8 gold medals by Indian hockey team in Olympics.
Mihir Sen- First Indian to Swim English Channel:
In terms of long distance swimmers, Mihir Sen of India gets his name at the top. Mihir Sen became the first Indian to swim the English Channel on September 27th, 1958. Mihir Sen crossed the English Channel in astonishingly 14 hours and 45 minutes.
Mihir Sen also became the first person in the world to swim seven seas of five continents.