You all might be very much aware with the prestigious 'Oscar Award' which is given for the extraordinary work in the film industry. But have you ever heard about 'Green Oscars'?
'Green Oscars' are basically the 'Whitley Awards' given to recognize the people contributing in conservation outside the developed world.
'Green Oscars' are also known as the 'Panda Awards' and one of the high profile conservation awards with worth of 30,000 pounds (2007). Recently,
Indians made the country proud by bagging the 'Green Oscars' at Wildscreen Festival in Bristol, United Kingdom, 2010.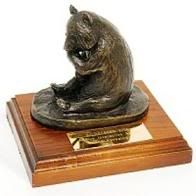 'Green Oscars' or 'Panda Awards'!
446 entries were received this year for the
'Wildscreen Awards' or 'Whitley Awards' or 'Green Oscars' or 'Panda Awards'.
A film named 'The Pack-Episode 5' shot in the Indian forests by Indians was nominated under the Animal Behaviour Category for the very first time in the Wildscreen Awards. 27 minutes movie, 'The Pack-Episode 5' which reveals the secret lives of the wild dogs in Nilgiri Biosphere Reserves took over a decade for its completion. Such incessant effort in making the movie finally bagged the
'Green Oscars' to the film 'The Pack- Episode 5' under Animal Behaviour Category in Wildscreen Awards, 2010.
The movie 'The Pack-Episode 5' was made by Krupakar and Senani from Mysore.
However, a film by Ritu Banerjee and Shilpi Sharma of Dusty Food Productions
'The Wild Meat Trail' bagged the 'Green Oscars'
. The film portrayed the decrease in the wildlife population in the North-East due to the hunting practices by communities and the individuals.