With the rise in the sales graph of India's largest producer of cars, Maruti in the year 2010 other motor companies are also launching their new models in Indian market so as to gain more customers.
Hyundai Motor India which is the second largest producer of cars in India
launched its luxury model Sante Fe for the first time in India on 14th October, 2010. Sante Fe is a luxury car and a Sport Utility Vehicle (SUV). With
addition of Sante Fe in the portfolio of Hyundai Motor India
, people will get more choice and entry of Sante Fe into Indian market can be regarded as the gift for the people in the festive season of 2010.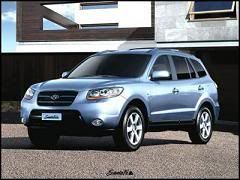 Sante Fe!
Worldwide, Santé Fe was launched for the first time in the year 2000.
Figures show that, till now about 20 lakh Sante Fe vehicles have been sold worldwide. It is after almost 10 years that Sante Fe model of Hyundai is launched in India. Indians planning to buy Sante Fe will get it at price between Rs. 20.95 lakh to Rs. 22.95 lakhs. Sante Fe 4x2 will be available at 20.95 lakhs while Sante Fe 4x4 will be available at 22.95 lakhs. The booking for Sante Fe cars will start from October 18th onwards and company has projected to sell 600 to 800 units within one year. However, Hyundai Motor India expects to sell about 100-150 Sante Fe cars by the end of the year 2010. Sante Fe in India will be imported via CBU route from North Korea.
Features of Sante Fe Launched in India:
1. Launched with tow trims, that is, 2 WD and 4 WD.
2. Sante Fe will have 2.2 litres diesel engine and provided with six speed manual transmission.
3. Sante Fe will give an average of about 14.66 litres per litre on Indian roads.
4. 2199cc and 4 cylinder diesel engine.
5. Santa Fe 4x2 will be available at a price of Rs. 20.95 lakhs.
6. Santa Fe 4x4 will be available at a price of Rs. 22.95 lakhs.