Indian Cinema has become a special part of our life and entertainment. There were days when no TV and cable TV facility was available but even then people used to rush to the big screens and cinema halls to get a glance of their superstars.Many would travel kilometres just not to miss the first day first show of the blockbuster movies of their favourite stars.
Within 100 years, Indian cinema has become one of the biggest industries in India.
Times are gone when acting in a film or movie was considered low in society. Today, high profile lifestyle of celebrities, lucrative income and worldwide fame has been attracting youth to work and struggle to establish them in Indian film industry. Let us know some interesting facts related to Indian film industry.
'Raja Harishchandra': First Full Length Feature Film in India:
In the present era hundreds of movies get released within a span of one year but there was time when it is used to take several years for the completion of single feature film.
Raja Harishchandra, a feature film by Dadasaheb Phalke was the first full length feature film in India.
The feature film was first shown to a selected audience on April 21st, 1913. However, Raja Harishchandra was officially released on May 3rd, 1913 in Bombay's Coronation Cinematograph.
A Scene From 'Raja Harishchandra'!
'Alam Ara'- First Indian Talking Feature Film:
Indian cinema was slowly making progress and understanding the depth of creating films that
Ardeshir Irani's 'Alam Ara' became the first Indian Talking Feature Film in 1931
. Alam Ara, a story that revolved around Kumarpur's king and his queens was released on March 14th, 1931. Alam Ara was produced by Imperial Movietone and directed by Ardeshir Irani.
'Alam Ara'- First Talking Indian Feature Film!
'De Du Khuda Ke Naam Par': First Song in an Indian Feature Film:
As Alam Ara became the first talking movie of Indian cinema, it came up with seven songs in the movie.
'De de Khuda ke Naam Par' was the first song recorded for the movie Alam Ara and thus became the first song in an Indian Feature Film.
Later, songs started becoming an integral part of the Indian movies. Astonishing, a movie released in 1932 called 'Indra Sabha' had total 71 songs.
'Naujawan': First Songless Indian Feature Film:
After Alam Ara, songs in the movie became a trend and almost each and every film came up with 15-20 songs. In this era of when songs became almost mandatory in the movies, JBH Wadia's
'Naujawan' that was released in 1937 became the first songless Indian talking feature film.
Later movies like 'Kanoon', 'Pushpak', 'Black' and 'A Wednesday' got superhit at box office without any songs in the movies.
'Kisan Kanya': First Colour Film Made in India:
The time when coloured photographs were even rare to get in India,
'Kisan Kanya' became the first indigenously made coloured Indian feature film.
'Kisan Kanya' was released in the year 1937 and was written by famous Urdu writer Saadat Hussain. However, 'Sairandhari' released in 1933 was India's first colour film but its processing and printing was done in Germany.
'Yaadein': First Single Actor Indian Feature Film:
As Indian cinema was rising and maximum story lines of films revolved around actor, actress, songs, love affairs, villains etc. , Sunil Dutt came with extraordinary movie concept.
In 1964, Sunil Dutt starred movie 'Yaadein' had Sunil Dutt the one and only actor in the movie
with no visual songs, no dances nothing. 'Yaadein' became the first single actor movie of Indian cinema.
'Yaadien' also made its entry into Guiness Book of World Records under the category of 'Fewest Actors in a Narrative Film'.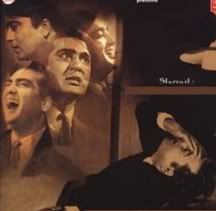 Yaadein: A Single Actor Movie!
First Cinema Hall, AC Theater and Multiplex in India:Elphinstone Picture Palace was the first cinema hall in India
that was opened in Calcutta by JF Madan in the year 1907.
Safire Theater Complex became India's first multiplex that was opened in Chennai in the year 1964
with four screens viz. Safire, Blue Diamond, Emerald and Preview Hall. However,
Bombay's Regal Cinema was probably India's first air-conditioned (AC) theater
that was built in the year 1933 with a cost of Rs. 12 lakhs.