Nokia, a reputed mobile brand in India
which grabs the maximum Indian market in terms of mobile handsets has always been eager to provide new and better handsets to its users. Quality, facilities and applications of Nokia mobile phones have always been attracting the users in India and made them the trustworthy customers of Nokia brand. Now, in another move,
Nokia N8 Smartphone was launched by Nokia on 13th October, 2010 in Gujarat.
Nokia N8 Smartphone is now officialy launched in India.
Nokia N8 Smartphone is provided with the Ovi service
which is really a creative facility for the mobile users. Using Ovi services people will be able to create their own content and will be able to connect it to social networking websites. Also, users will be able to take the benefit of 'On Demand Online Television Programme'.
Nokia N8 Smartphone will be available to the customers in Indian market at the cost of Rs. 26, 259 only.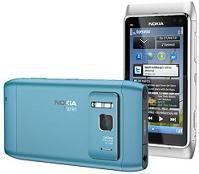 Nokia N8 Smartphone!
Features of Nokia N8 Smartphone:
1. Nokia N8 is provided with 12 mega pixel camera sensor with Carl Zeiss optics.
2. For good photography in dark conditions, Nokia N8 Smartphone is provided with Xenon flash.
3. One can create their own high-definition quality videos and edit them with a special application in Nokia N8 Smartphone.
4. HDMI connection.
5. Dolby Digital Plus for compatibility with home theater systems.
6. Create content and connect to social networking sites like Facebook and Twitter using Nokia N8 Smartphone.
7. Voice Guarded Navigation facility.