'Booker Prize' is considered one of the most prestigious awards given in the literary field and India has produced many skilled writers whose works have made 'Booker Prize' in their name. Many novelists from India have magic in their hands producing fantastic novels. Let us know these literary legends from India.
V.S. Naipaul:
A name that finds place among the Nobel Prize recipients , V.S. Naipaul won the Booker prize for his novel 'In a Free State' long back in 1971. Though V.S. Naipaul does not have Indian citizenship but have been associated to India.
V.S. Naipaul
Salman Rushdie:
A man internationally famous for his writing skills is the novelist Salman Rushdie. Salman Rushdie won the Booker prize for his novel 'Midnight's Children' in the year 1981. Salman Rushdie also won the 'Booker of Booker Prize' which reveals his perfection.
Salman Rushdie
Arundhati Roy:
In the year 1997 it was a lady novelist from India whose extraordinary work, 'The God of Small Things' bagged her the 'Booker Prize'.
Arundhati Roy became the first woman novelist from India to win the Booker prize.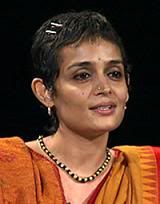 Arundhati Roy
Kiran Desai:
Daughter of Anita Desai,
Kiran Desai became the youngest woman novelist to win the Booker Prize
. Kiran Desai's famous novel 'The Inheritance Loss' bagged her Booker prize.
Kiran Desai
Aravind Adiga:
One of the
youngest man novelist to win the Booker Prize was Aravind Adiga from India in the year 2008.
Aravind Adiga's thoughts revealing Indian poverty in his extraordinary novel 'The White Tiger' bagged him the Booker prize in the year 2008.
Aravind Adiga